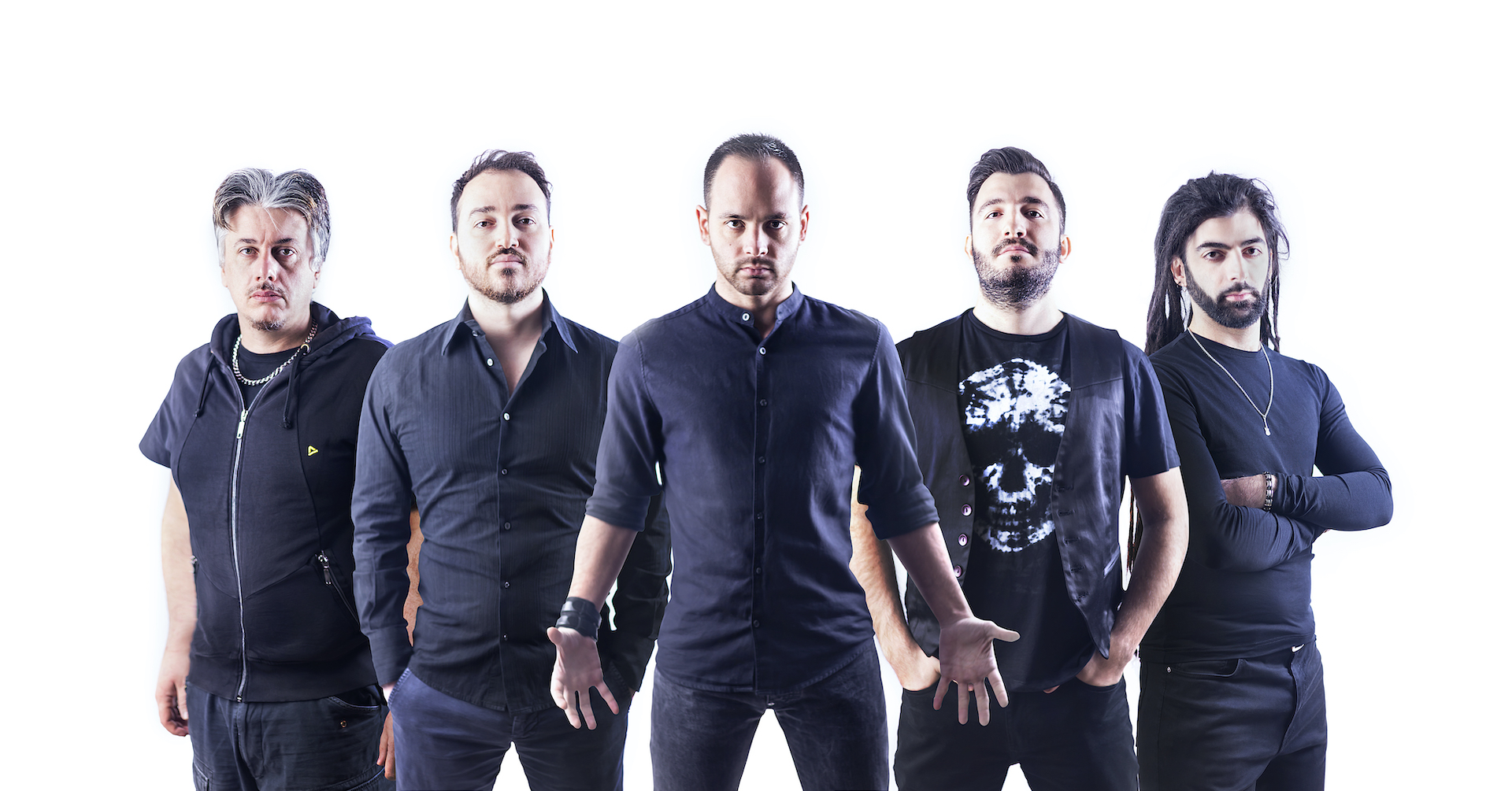 New album for Soul Secret
Hello boys, how are you? Luca: Fine, thanks! Lino: Great! Claudio: Beautifully! Francesco: Fine, thank you!
New album under your belt so happy and eager to show it to the public? Luca: Absolutely. We really worked hard on this new album and the final result is something we're very proud of. We can't wait to release it! Lino: Yes! We are proud of the new album and extremely excited for the release! Claudio: Can't wait! I started dreaming the first gig the day after we got the master...and it was GORGEOUS. Francesco: Yes, we put a lot of effort into it and I can't wait to play the whole album live!
Who is who and who does what in the group? Luca: In this band everyone is composer, lyricist, producer etc. We're really a democratic band :) In particular, I'm the one behind the keyboards on stage. Lino: I'm Lino and I'm the singer of the band. Claudio: Bassman, Riffman and Grooveman, at your service. Francesco: I'm Francesco, the guitar player.
What more and less does this album have? Luca: This album is the result of all we've learned through the years and in my opinion there's everything we wanted to put into it. Lino: Well, it has pretty much everything we ever wanted: a great opening, a great single, a great ballad, a great ending suite and several minutes of music that we like and fully represents us! Claudio: The best iPhone ev..ehm..the best Soul Secret album ever. We really took ourselves to another level, experimenting with a pretty new sound with our roots stepped into our backgrounds. Francesco: this is the first album I've ever recorded with Soul Secret and, for me, it's a pretty solid one, with groovy riffs and catchy melodies, not to mention the instrumental parts...I really love it!
Who has the inspiration for writing the texts and why? Luca: the one who feels the inspiration is the one who'll end up writing the lyrics. As I said, everyone does everything! Lino: anyone in the band who has something to say and share with the world can write lyrics. Claudio: We generally take glances of our lives, experiences we go through and throw them into words. So every idea is a good starting point to develop lyrics on facts regarding everyone of us. Francesco: as Luca said, everyone does everything!
Same question for the composition of the music? Luca: In this new album I'm happy to say everyone gave their input. Even Davide Guidone, who generally cares about the management side, gave us some incredible ideas that made their way to the final album. Lino: composing a song always starts with a good idea… no matter who had it, if it is good! As for the lyrics, anyone who feels like giving a contribution to the music can write a song or help composing one. Claudio: Every song as a "master composer" that is always ready to listen to other's ideas. In BLC, for the first time, every band member has been a master composer, and the result is unbelievably breath-taking. Francesco: Same answer: everyone in the band gives his contribution in composing new music.
With this confinement, do we more or less want to create new titles? Luca: MORE! Indeed, we wrote a single during the lockdown, called "Shine Again". It's available on our Bandcamp (https://soulsecretband.bandcamp.com/track/shine-again) and all proceeds will be donated to the World Health Organization to help fight the Covid19. Lino: definitely yes (listen to Shine Again, we actually wrote and recorded it during this confinement)! Claudio: Shine Again has gained some money for the WHO! The song was published with the great help of Tom de Wit and his Layered Reality Productions, that cured the mixing process and sang in the song, along with Rich Hinks for mastering. Francesco: Definitely MORE! Personally, during the lockdown I felt powerless against the whole situation and some lyrics and a piece of melody came up to me; then, we worked together on this draft and the single "Shine Again" came to light. It's available on our Bandcamp and all proceeds will be donated to the WHO to help fight the Covid19.
Let's talk a bit about you and your musical tastes: what are your musical influences? Luca: I frankly listen to everything. I mean… EVERYTHING. Lino: From prog to good old fashioned rock, from jazz to blues, from classic pop to funk… I would say every genre. A good song is a good song! Claudio: This turn I was overwhelmed by Djent music, but my roots is FUNK so...let's create a new genre: Djunk music! ...mmm... we've got to change the name. It does not sound so good… Francesco: When I was young, I used to listen to blues artists, in addition to bands like Deep Purple, Iron Maiden, Led Zeppelin...then I switched to prog-metal (Dream Theater, Symphony X) and metal (Pantera, mainly). When I was a bit older, I started to listen to jazz, soul music and all the black music in general. I'd say that I like all the good music, no matter what the genre is.
Between a big festival like HellFest or an intimate concert you say yes to what? Luca: To both! The big festival lets you feel some great feelings on the stage, it's very adrenalinic and a greater audience gets to know your music but in an intimate concert you feel a direct connection with the fans and have a greater chance to meet most of them after it. Lino: To both of them of course! A live is always a great experience to us! Claudio: The bigger the better! Francesco: To both! They are different experiences and both enjoyable!
How would you define your style of music in 3 words? Luca: progressive, independent, various. Lino: melodic prog rock Claudio: mix genres together Francesco: progressive metal, experimental.
Why did you turn to this style of music? Luca: I was studying piano at the time but I didn't have a favorite style of music. After a friend of mine lent me Liquid Tension Experiment 2, I started my journey into progressive music because I felt it to be so fresh and new to me. Lino: I discovered it when I was really young. I was studying guitar and prog filled my need of music, in a certain way Claudio: It's a sort of lesson about equal rights to everyone. Every genre, every sound, every emotion could make the difference in our songs, everyone of them could have the same power. And I think this is a great deal! Francesco: as I said previously, when I was a tennager I used to listen to prog-metal and Dream Theater; the first time I listened to Petrucci guitar solos (in particular, Under A Glass Moon guitar solo), I was blown away by his guitar skills and his musical taste..and that was the moment my prog-journey began!
What do you think is the recipe for your success? Luca: I think something like "Art for art's sake" or "Ars gratia artis", given that we're italians. We're independent, we do not aim to please everyone. We just do what we like. Lino: always do what you like, be true to yourself. Claudio: Definitely riffs and progressions. Francesco: Follow your heart, listen to your inner voice.
Super naive question (I assume) is it the music that came to you or is it the other way around? Luca: Well, I think it's the music that came to us all musicians. We're just receptors that activate when music speaks to us someway. Lino: music comes to everyone of us! Claudio: we do search for it. I believe that even if we are hit by a particular sound from our surroundings, we recognize it because we put attention to it. Francesco: I think that we, as musicians, have this gift of being connected to a "musical" whole, strictly related to nature and the world in general, and we're simply a medium through which the music speaks to the world. In conclusion, it is the music that came to us.
Two final questions: Shall we meet in 10 years or not? Luca: You bet! Lino: I hope so! Claudio: Sure, but I wish also in between! Francesco: I hope so.
What can I wish you today for tomorrow? Luca: A goodnight! :D Lino: It would be great to continue to follow our dreams, being happy while we do it. Claudio: METAAAAAL!!! Francesco: A world tour
A big thank you for this interview and beautiful musical continuation Luca: Merci! Lino: Grazie :) Claudio: It has been a pleasure, have a great time! Francesco: thank you!