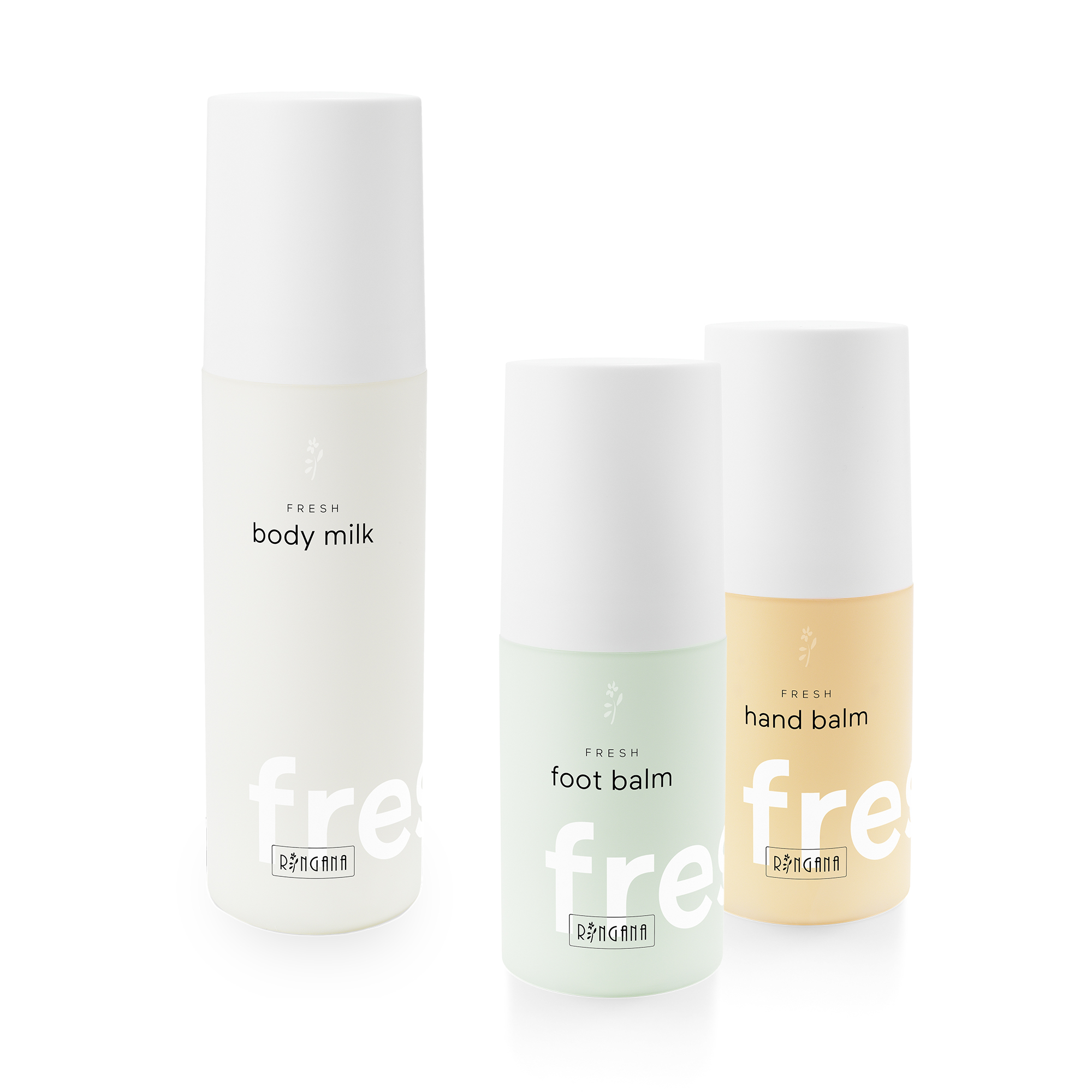 Rencontre avec Andreas Wilfinger & Ulla Wannemacher, créateurs de la gamme Ringana
Hello ! How are you?
Andreas Wilfinger & Ulla Wannemacher:
We are fine, thank you!
Tell us about Ringana. Why and how did you come up with it?
Andreas Wilfinger & Ulla Wannemacher:
In the early 90's, when our son was in kindergarten, he came home from school with a toothpaste containing an unsafe ingredient, triclosan. »We want to do it better« was what immediately crossed our minds. From that moment on, we worked for several years, in a small laboratory, researching with a team of holistic health practitioners and biochemists to finally develop our RINGANA Fresh Skin Care cosmetic line – a broad group of skin care products that is still modern after all these years and exceeds all sustainability requirements.
Who is this brand for and what message do you want to convey through the products?
Andreas Wilfinger & Ulla Wannemacher:
Let us explain in more detail:
RINGANA Fresh Skin Care products cannot be stored for a long time, and they contain no chemical preservatives, additives, microplastic or mineral oils, therefore these products have a shorter shelf life, they contain real natural substances, are vegan and not tested on animals. Because of all that, our brand RINGANA is a symbol of absolute freshness, high production standards and for having complex formulations with pure ingredients. One of our most important goals - from the very beginning - is to be as eco-friendly and sustainable as possible, from production to distribution. In our RE*THINK campaign, you can find out what we do to keep our ecological footprint low. We invest a great deal of time, money and ideas to come up with packaging solutions with our suppliers that will best protect our products and are as sustainable as possible, for example: By using biodegradable corn starch packing peanuts in our packages, we reduce our use of plastic by 75.5 tons per year (*as of 2019). In addition, our shipping cartons are made entirely of recycled material. Another example, out of many, is our reuse-concept: If you use our products and then return ten glass bottles to us, we will give you a skin care product of your choice, free of charge. The returned glass bottles are reconditioned and refilled. The glass bottles can be reused several times thanks to the patented airless dispenser they contain. And we keep on reviewing - even very good solutions! - again and again, we never stop "rethinking".
We are indeed in love with your brand. How long have you been walking this path and how did you manage to win the Frenches' heart?
Andreas Wilfinger & Ulla Wannemacher:
We have always been very interested in having a healthy and sustainable lifestyle, so we have been involved with natural cosmetics since the early 90s. People all over the world are simply beginning to rethink their lives and are generally more concerned about the environment, in every aspect of it, and French people have a great sense of style & taste. We are very pleased to see that they also share our philosophy: Nature, Efficiency and Sustainability.
What about the question of using artificial ingredients and preservatives?
Andreas Wilfinger & Ulla Wannemacher:
Our products have a short shelf life and we are proud of it!
RINGANA only uses ingredients that are pure, so artificial preservatives and the likes are not only questionable but also superfluous. Leaving them out of our products creates space for an extremely high concentration of active substances which is what makes our products so unique. And because the best is what we strive for, we spare neither efforts nor expenses to reach that, and we use certified raw materials of the highest quality.We concentrate on extremely potent vegetal substances, because we know that antioxidants are only truly effective when they are fresh. That's why our recipe for success is: the best possible effect through absolute freshness.
What's RINGANA's motto?
Andreas Wilfinger & Ulla Wannemacher:
Our philosophy, summarized in a few words, is: Freshness, Naturalness, Eco-awareness and Efficiency.
What makes your brand different from other cosmetic lines?
Andreas Wilfinger & Ulla Wannemacher:
We take a holistic approach to skin care, always with the aim to walk the eco path. Our research team is constantly looking for new and better natural substances. When they find one, our products are improved. For example : RINGANA's three FRESH facial creams have just been adjusted and are more effective now.
What are Ringana's future projects?
Andreas Wilfinger & Ulla Wannemacher:
Our greatest future project is the new RINGANA Campus which is currently being built in St. Johann in der Haide, in the state of Styria, in Austria. Our new distribution centre is being built in three construction phases that have been ecologically projected, down to the smallest detail. Just a glimpse of what's coming: A water recycling plant, a huge solar power system and 9.500 m2 of greened roof areas. RINGANA is also constantly expanding: we have just arrived Slovakia, Czech Republic and Portugal, followed by the Netherlands and we will be soon in Hungary as well. We're almost done.
I have just two more questions.
What makes you happy?
Andreas Wilfinger & Ulla Wannemacher:
From a private and economic point of view, we are very happy about the fact that people are rethinking their ways, because we have only one world to live in and it needs to be protected. And of course, we are very happy about the fact that our philosophy and our products already have a lot of fans all over Europe.
And a wish?
Andreas Wilfinger & Ulla Wannemacher:
We want more and more people to take the ecological footprint we all leave behind more seriously. And of course, that we can carry our products and our philosophy further out into the world.
Thank you for this interview, all the best!