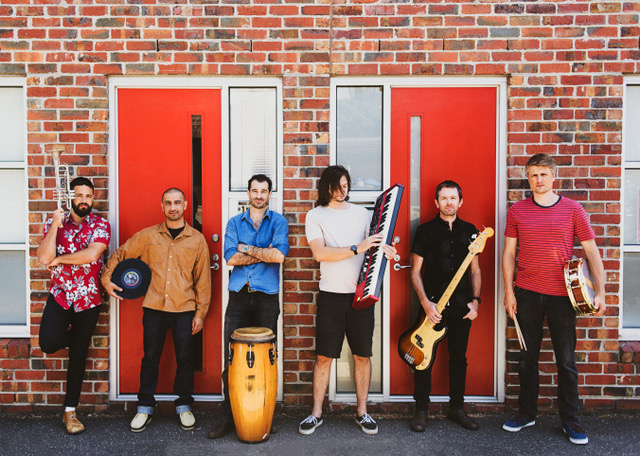 Rencontre avec Ollie McGill le membre du groupe The Cat Empire
Hello how are you ?
Very well thank you!
Who is behind this scene name CAT EMPIRE?
Felix, Ryan and I were sitting around a table one time during rehearsal. We were trying to think of band names when a picture on Felix's fridge caught our eye. It was a picture drawn by Felix's 11 year old brother, Max, of cats standing on their hind legs, wearing chains, holding guns. The picture was entitled "The Cat Empire".
I saw your discography on your label. So tell the music there is that true no?
I am having trouble understanding the question, but we have a discography of 7 official studio releases, 2 more before we were signed as a trio, and quite a few live albums, documentaries and alternate releases of previously unreleased
material and what not. Also some singles with b sides etc.
More serious what drives you towards this artistic field?
Music is all I have ever known. I have played piano since I was an infant and have never looked back. The Cat Empire has been the perfect vehicle for a diverse bunch of aspiring musicians to express themselves in all styles. We all have different ideas of how music should be and the band is an amalgamation of all those ideas. Over the years, we have developed this blending of styles to the point that we have something I think is distinctly unique.
What is your current news?
We are making a new record as we speak. The new record is at the stage that we are starting to see most songs come to their completion and the sounds are very exciting. I feel like this could be our best record to date.
The first word that comes to mind right now right now?
Chicken Salt
What makes the public like you as much as you think?
When we first started playing, we were lucky to come up with a concept that filled a hole in the market - the blending of styles seemed to catch the attention of many a road tripping, sun loving Australian. This has spread to Europe and North America and seems to continue to capture the imagination of the new generations around the globe. The contagiousness of the music might have something to do with its uplifting nature. It is music that seems to help people escape their reality.
I watch your lives on youtube, everyone cheers you it's madness!
How do you explain this success?
It's hard for an insider to explain the reaction of the masses to our shenanigans... maybe it is the same reason people are obsessed with reality tv! That, I can't explain either...
With all the albums that you have to your credit, what is the major difference between all (except the number of songs)
I think we have done a full circle throughout the course of making all our albums. The first release, our self titled album, implemented a high level of production due to the mad professor, Andy Baldwin, who produced that record. The subsequent records were, it seems, a revolt to that style of recording, using more of the live elements, and involved a much rootsier sound. I think we have slowly developed our album sound over the course of the last 5 or so records, and now and for the last three records since we have been working with producer, Jan Skubiszewski, who is helping us get back to a more produced sound, we have ended up with something more similar to that of our first record.
What are your musical influences?
Every member of the band has different influences, I am definitely more influenced by the jazz greats - Herbie Hancock, Keith Jarrett etc, while Harry is into older, more traditional stuff, Ryan could name any rock song written between 70s and 90s, Will is into Metallica, Led Zepplin and Chilli Peppers, Jumps is an avid collector of all Afro/South American funk vinyl and Felix is listening to lots of Lenard Cohen and Paul Simon; he also grew up listening to Cuban music. It is all these influences that shape the way we write our music.
What are you inspired by for the composition of your texts?
I'm not the best person to ask - I'm not one of the lyrics writers - however I am often hearing Felix say how much he likes to put together nonsensical phrases, or unrelated phrases to create a more interesting effect.
Who is the composer of the music and what is it inspired by?
Harry and Felix are the main composers in the band. I hear them both complain occasionally about how the band has taken them both away from their main compositional style. I guess that is why they both have solo projects, to channel their personal stuff. The band seems to steer them in a direction that takes them away from their comfort zone, into something that is unique to the band.
Who is the funniest of you all?
There are many different forms of humour in the band. The bass player Ryan is definitely the driest of us all, Will does the best impersonations, Harry and Felix are witty, and I tend to make people laugh without realising I am being funny.
Imagine an evil genius removes the fact of being a musician, what other form of art would you choose?
I would probably die of starvation! But I have spend considerable amounts of time trying to make apps. I guess I haven't yet been successful, so not a good choice! I have also dabbled in graphic design.
Big mythical scene or intimate concert?
I like both, but intimate concerts tend to be easier and sound better.
The best reward you received last year ...
I moved to a really beautiful part of Australia last year with an amazing river network, live music scene and great restaurants and cafes, that was pretty rewarding.
Dream or reality ?
Reality, I guess... I live the dream, so that makes it reality...?
60 70 80 90 or 2010?
60 &70. 60s and 70s were a great period for music, my favourite number is 77.
The international city to make a good concert ...
Montreal has always been my favourite place to play. We have played on St Cathrine overlooking up to 70,000 people on multiple occasions for the jazz festival. Such an amazing experience!
The style of music that you have trouble listening to ...
Electro swing. It is the new country and western, being the most popular and the most hated style of music.
What I can wish you today for tomorrow ...
More success whilst playing the most adventurous music.
Thank you very much for this interview and nice musical continuation
My pleasure!
Crédit photo : Michelle Grace Hunder